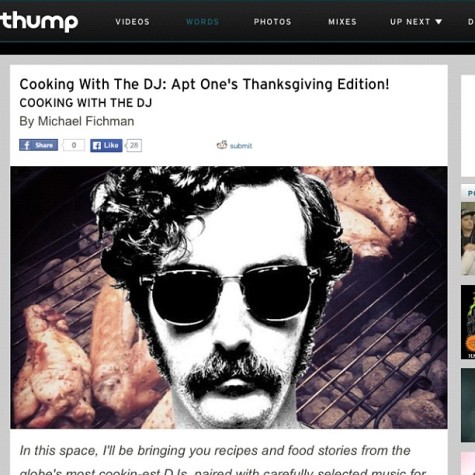 Hey there internet user – we have been working on a bunch of bug-fixes and upgrades over the last few weeks, hence the lack of posting activity. Apologies. – mf
So as some of you know, I've been doing this weird cooking-column thing over at Vice Magazine's "Thump" site. Basically I ask my DJ friends weird questions and then they tell me how to cook a particular dish, like "Linguine with Clams and Slim Jims" or "Donair Kebab Sandwich." Created a market niche you didn't even know existed, right? You're welcome.
Anyway, the tagging on Thump is a bit haphazard, so here's a comprehensive rundown of the guests and dishes so far:
Feb 3rd – Ride The Universe – "The Experience" Burger
Jan 28th – "Freaky Franck" – Wines Talk & Penne w/ Shrimp
Jan 14th – Sammy Bananas – Ma Bananas' Chipotle Beans
Jan 2nd – DJ Ayres – Party Chili
Dec. 23rd – 2013 Cooking DJ Wrapup
Dec. 10th Levins – Sopaipilla and Chicken Burgers
Nov. 27th – DJ Apt One – BBQ Smoked Turkey Wings
Oct. 23rd – Neil Armstrong – Cambodian-style Ribs
Oct. 9th – Rhek – Halifax Donair
Oct. 2nd – Frankie Banks – Linguine and Slim Jims
Sept. 26th – Steve from Hood Internet – Dr. Pepper Chicken
I have several upcoming columns, with guests from NYC, Minneapolis and Mexico.