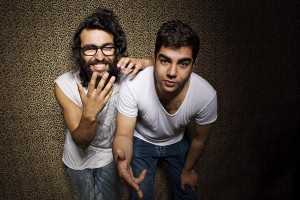 I heard Das Racist broke up. I first became aware of them when I played a Philadelphyinz show with them in 2008 in NYC. I recall being so pleasantly surprised and amused about their general epistemological attitude towards rap, society and politics that I felt inclined to unsuccessfully explain them to lots of people in subsequent months. I guess that was kind of the idea. Then we did some Wednesday together at a bottle service club where those dudes stood on really expensive leather couches in a lounge and yelled at people. This obviously forshadowed us quitting after disagreements with management.
I'd also like to point out how endearingly bad the graphic design was on those old flyers, apologies to whomever made them.
Anyway, I'mma go get a pan pizza with a chalupa on it and think on this.