The short version of this post would be to merely say that we have an amazing, chart-topping duo of disco producers called Venice Beach coming from France to DJ with us at KFN next Friday, October 19th. But the short version doesn't really do it justice, so I'll start at the beginning.
Back in about 2005 of 2006, Skinny Friedman and I were doing the early incarnation of Philadelphyinz at the venerable Khyber in Old City Philadelphia. We noticed that every month, this one guy would show up about five minutes after doors opened, usually with a hot girl on his arm. By about 10:30 had smashed a beer and was on the dancefloor, breaking it the fuck down, sweating through whatever de rigeur outfit he had on. Like clockwork, the dancefloor would be ablaze early, as any apprehension other club-goers had about hitting the floor first evaporated.
Every DJ knows that it's ten times harder to start a dancefloor than to keep a good one going, that first enthusiastic dancer is key to the whole event. This guy had already made it a party, and he continued to do so for the next several years.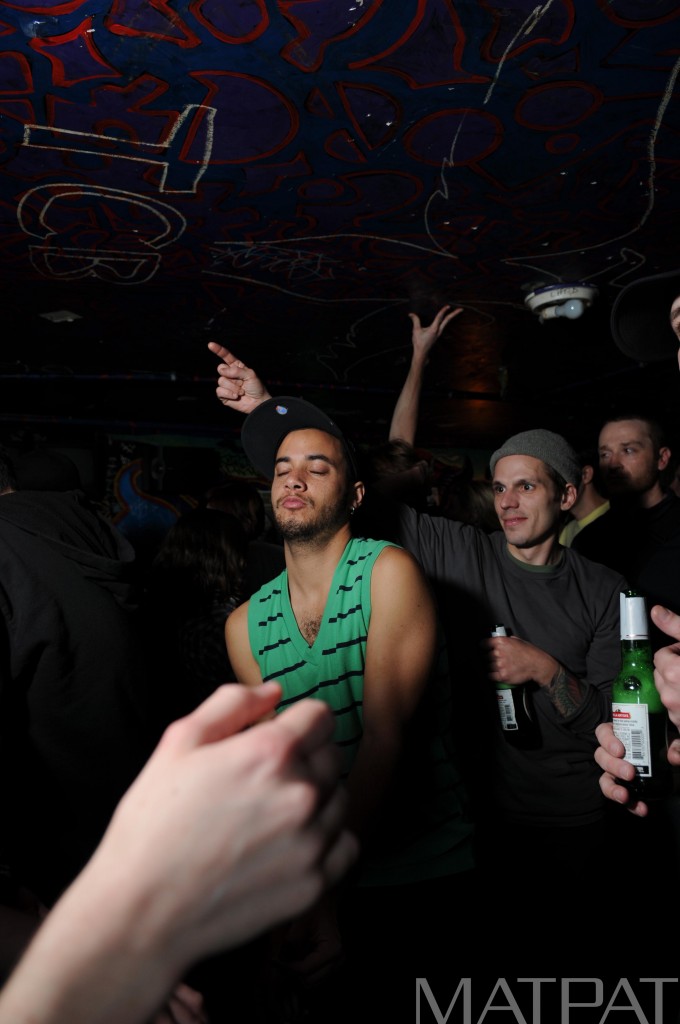 Philadelphyinz 3-year Anniversary, October, 2008
I quickly got to know Didier and we became friends. He was a talented art student from France who had found nights like mine, Robotique, Paradise at Key West and Hurrah – places where the disco spirit he knew from his native country was alive in Philly. He got involved with some of our parties – helping me with promo videos.
When he graduated, he moved back to France – to Paris where he started teaching art. Once he got back, he started DJing and producing, inspired by much of what he saw and heard in the States. Before long, I was getting emails from Didier with some serious heaters from his new group Venice Beach, his collaboration with long-time Paris-via-Nantes DJ Moar. Before long, they had material on Nang records and collaborations with disco edit godfather Kon and their star in France was rising fast.
With Venice Beach and friends, Paris, 2012
I DJ'd twice in Paris with Venice Beach this past summer, and helped them get some US dates together, and I'm really excited to welcome Didier back to his adopted city along with my new friend Jerome aka Moar and I can't wait to let Philly remind them why it's the city that was responsible for so much of their inspiration in the first place.
So join us at…
≠ELECTRIC CITY≠
presented by Long Trail Brewing
with special guest
VENICE BEACH (DJ SET) (Paris, France)
dancing
all
night
long…..
with residents
DJ APT ONE & DJ BRUCE
+ upstairs
WILLYUM & JESSE MERLIN
•$5 ALL NIGHT
Free Draft with entry until MIDNIGHT
KUNG FU NECKTIE
1250 N FRONT STREET
PHILADELPHIA, PA
http://kungfunecktie.com/