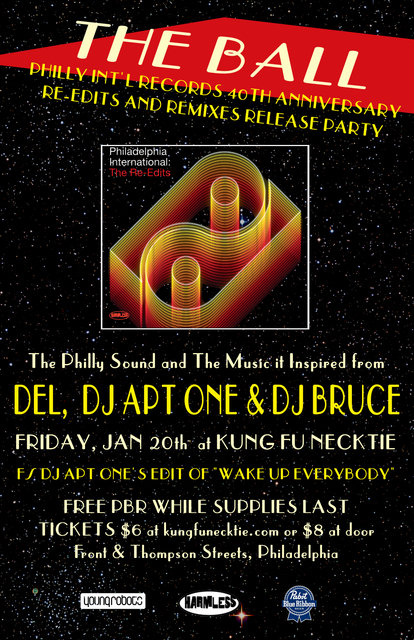 This Friday, I am very proud to present to the world the Philly International Records 40th Anniversary Re-Edits and Remixes compilation.  It's a comp available only in Europe, part of a series of 14 CDs of retrospective and new material from one of Philly's great cultural institutions.
I have a remix of one of my favorite songs of all time, Harold Melvin and the Blue Notes' "Wake Up Everybody" on this comp, and it is a top 10 selling R&B record on Amazon UK.  Harmless Records, BBC and Philly International were great to ask me to participate in this project and I'm very glad that as the only participant in the remix project from Philadelphia, I have the privilege of presenting it to you.  This is the only place in North America you can get this CD (provided all the international shipping comes in on time!).
Furthermore, I am so pleased that we have Del, a great DJ and a great lover of Philly Disco with us to guest, and this also marks the grand debut of the newest resident at The Ball, DJ BRUCE!! We're gonna show you why disco and house music are the best to sweat to!
There is gonna be complimentary PBR, and yes, KFN has their liquor license issues resolved and is full operational!!
+++++++++++++++++++++++++++++++++++++++++
PBR, Harmless Records / BBC, Young Robots and DJ Apt One Present:
THE BALL
Philly International 40th Anniversary Re-Edits and Remixes
The Philly Sound and The Disco and House Music It Inspired w/
DEL, DJ BRUCE AND DJ APT ONE
Kung Fu Necktie, Front & Thompson Streets
$6 Advance tickets from kungfunecktie.com
$8 Day of Show
Limited 40th Anniversary Import CDs on Hand
FREE PBR WHILE SUPPLIES LAST
+++++++++++++++++++++++++++++++++++++++++
Here are some tunes to get you in the mood!
Wake Up Everybody (DJ Apt One Edit) by DJ Apt One
Best of Philly Disco Vol. 1 by DJ Apt One