Skinny Friedman – LET NOTHING BREATHE
I did a little disco'd-out mix called "LET NOTHING BREATHE" for the homies over at Kill Shop Kill. The morbid-ass name is a joke about my inability to let anything play for more than a minute and a half. DJ jokes, right? Anyways, it's weird and I like it. Check it out!.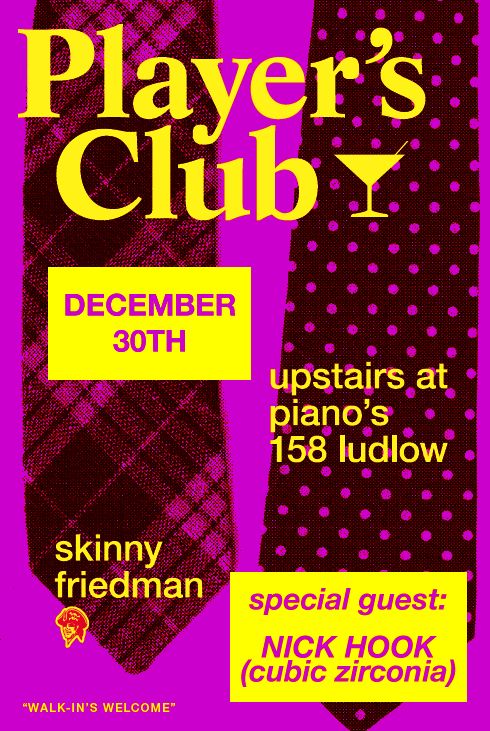 Me and Nick Hook will be throwin down at Pianos on Wednesday for THE LAST PLAYER'S CLUB OF THE DECADE. Nick is a great DJ and a great dude, known equally for making everybody inna place do sake bombs and for his work with the electro-soul group Cubic Zirconia. The last two Player's Clubs have been absolutely fucking nuts, consider this your pre-party for your New Years whatever..
SPEAKING OF WHICH, you probably want to pencil in the New Years Eve edition of PHILADELPHYINZ at Medusa. Our guests will be the up-and-coming Philly funk wizard Ed Blammo and Washingtong DC's party czar, Gavin Holland (of Nouveau Riche fame). And we'll be playing too. You know the deal. $7 cover, free champagne at midnight. Hosted by Lexie.
And by 11 pm on Friday, you should be recovered enough to come fux with us at Silk City. Hot Mess was off the chain last month, let's keep it movin! Yes I said "off the chain!" In 2010! THROWBACK!